Bali Interesting Place
Advertising Bali, Advertising Bali Company, Advertising Bali Neon Box, Advertising Bali Signboard, Advertising Bali Papan Nama, Advertising Bali Reklame, Advertising Bali Baliho, Advertising Bali Billboard, Advertising Bali Spanduk, Advertising Bali Banner
Ubud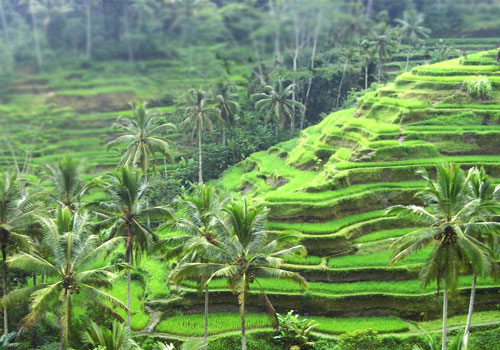 Ubud is Bali's cultural heart. This area is located in the cool mountains, just one hour's drive north of the airport and the resorts of southern Bali, this traditional country town is the home of the Balinese Royal family and a flourishing arts centre. Most of Bali's museums and galleries are centered in Ubud, but culture and history rich Bali is peppered with museums and galleries. These museums and galleries offer paintings, woodcarvings, textiles and all kinds of souvenirs for viewing and also purchase. Puri Lukisan Museum in centre of Ubud, Neka Museum in Campuhan, Seniwati Gallery and Agung Rai Museum in Pengosekan is a must, to see the difference between creative art and more commercial products.
Inspired by vibrant green rice paddies, mountains and colorful Balinese festivals, the elite artistic colony that began in the 1930's with eminent European painters, writers and musicians has now grown into a thriving arts centre, drawing increasing numbers of visitors. Ubud is also a flourishing crafts centre. Around Ubud the surrounding villages like Camphuan, Penestanan, Peliatan and Batuan specializing in crafts and woodcarving which are sold all over the island. There are hundreds of shops selling antiques, woodcarvings, crafts, textiles, paintings and jewelry as well as some of the best art museums in the country, dozens of art studios, an excellent local craft market, and galleries selling local and international art.
Ubud's role as the epicenter of Balinese culture makes it the perfect place to see traditional Balinese dance and drama. From the early 1920's the royal family ensured that most talented teachers of dance, music and drama were brought to Ubud to entertain the King and pass on their knowledge. Dances like Legong, Ramayana, Baris, Kecak and Sanghyang (the fire dance) are performed nightly in Bona village, just 15 minutes drive from Ubud. Bali's most accomplished dancers, musicians, painters and carvers live in just 10 square kilometers.
Balinese Hinduism remains stronger in Ubud than elsewhere in Bali, cremation ceremony or celebration of some kind. Balinese Hinduism is distinct from that of India and has absorbed the animism of Bali's pre-Hindu ancestors – inspired by the extraordinary beauty of Bali's landscapes – rice fields, mountains, river gorges, villages and ancient temples.
Visit Ubud Monkey Forest, a natural forest reserve popular with both locals and tourists. Inhabited by wild monkeys who will steal the camera, bananas, handbags, toupees, etc. These mischievous monkeys provide lots of entertainment. Interesting meandering paths lead to charming places like the bathing temple surrounded by lush remnants of ancient forest. Just off the main square a lovely arched stone bridge leads to the Hindu elephant-headed Lord Ganesh overlooking a small, square, moss-covered pool where several koi swim at his feet.
Present by:
Advertising Bali, Bali Advertising, Bali Advertising and Printing, Advertising and Printing Advertising Bali, Advertising Bali Printing, Printing Advertising Bali, Advertising Bali Acrylic Media, Acrylic Media Advertising Bali, Advertising Bali Baliho, Baliho Advertising Bali, Advertising Bali Banner, Banner Advertising Bali, Advertising Bali Billboard, Billboard Advertising Bali, Advertising Bali Car Branding, Car Branding Advertising Bali, Advertising Bali Cutting Stiker, Cutting Stiker Advertising Bali, Advertising Bali Digital Printing, Digital Printing Advertising Bali, Advertising Bali Graphic Design, Graphic Design Advertising Bali, Advertising Bali Web Design, Web Design Bali, Advertising Bali Interior, Interior Bali, Advertising Bali Letter Timbul, Letter Timbul Bali, Advertising Bali Neon Box, Neon Box Bali, Advertising Bali Neon Sign, Neon Sign Bali, Advertising Bali Produk Las, Produk Las Bali, Advertising Bali Shop Branding, Shop Branding Advertising Bali, Advertising Bali Spanduk, Spanduk Bali, Advertising Bali T Banner, T Banner Bali, Advertising Bali Umbul-Umbul, Umbul-Umbul Bali, Advertising Bali Photography, Photography Advertising Bali, Advertising Bali Brosur, Brosur Advertising Bali, Advertising Bali Event Organizer, Event Organizer Advertising Bali